This morning, perhaps being distracted by the panoramic view westward of sunrise hazels, purples and shimmer of highrise windows reflected onto urban canopy of trees, I dropped my favourite jar of Genmaicha, spilling a good portion onto my kitchen floor. "Oh, dear" I said, then saw with relief that the jar, a diamond patterned glass cylinder with a knob top, had not shattered on the kitchen's new laminate flooring. I wasn't sure whether the tea in the jar, or the jar itself, was the more precious.
The jar was a treasure found in the 'Bargain Barn' during my first few days living in the desert a few years ago. I was outfitting my coach-home's galley-sized kitchen and needed some containers for teas and larger spice items, such as cinnamon sticks. I loved the Bargain Barn, the town's treasure trove for items that were perfect for outfitting a desert home, left behind by those who had moved back into modern, conventional, city living. Most items were anachronisms, having been recycled into new homes many times over the decades.
This particular jar was a doppelganger for the one that had lined our kitchen countertop when I was a little girl, back in the '50's and '60's. Along with the kitschy cat plate that came with the coach, it always brought up fond memories of my mother, in her bright apron with the orange and blue ruffles, busy in the kitchen, with little me following her every move, chattering away with nonsense about what the cat was thinking or doing, and could I have a carrot, please?
These memories informed me as I selected this jar from amongst several off the shelf at the Barn. Now, what would go into it? Sugar? Cinnamon sticks? Ground Cumin or Turmeric? Or, just leave it clear and set it on the sill of the sunny kitchen window where its lacework of facets could catch the light and reflections of the trees and hummingbird feeders? I took it home to ponder.
A week or so later, I drove to a mountain town high above, but not far from, my desert home. The town centre is charming, kept in an old timey sort of way for tourists and vacationers, but mostly to supply the locals with their more rustic needs. The patchwork of shops sold ceramics, handspun wool and weaving, mountaineering and ski equipment, ice cream, candy stands, bakeries, bistros, coffee shops, a restaurant, and some exotic imports stores.
Up a flight of stairs in the centre square's red wooden feature building, there were a few quieter shops selling Amish farm goods, wool for knitting, and an oriental imports shop. I wandered into the oriental imports shop.
It had been quite a while since I'd seen anything Asian, and I now realized how much I missed the almost ubiquitous presence of Asian culture and people back home in Vancouver, Canada. It had been my custom for decades to go to the traditional Chinatown near downtown Vancouver and shop for produce, herbs, Tai Chi clothing, shoes, swords, kitchenware, and just enjoy a day off from the suburbs, as well as attending weekly rehearsals with the Chinese orchestra and choir; now this shop reminded me of all those things that were part of where I had been.
What to buy? or to just look and take in the musty scents and pastel and black colours of kites and clothing and toys and cosmetics and toiletries. What I wanted most was tea; either Oolong or Genmaicha. Tucked away next to some brightly coloured packages of cosmetics was the tea, and I picked a lovely tin of Oolong tea and a box of Genmaicha. The proprietor nodded as she checked out the items and I realized how calm and soft everything had been in that store, even in comparison with the little mountain village, which had a hustle about it, directed at tourists to buy goods and eat goodies.
Genmaicha tea is a blend of bancha green tea and roasted brown rice. It has a nutty, slightly sweet flavor and a yellowish color; it is a popular drink in Japan. Sometimes it is called 'Popcorn Tea' because the toasted rice kernels look like small popcorns mixed in with the green tea leaves. Some days, for feeling a warm glow, I put a few leaves of Oolong tea into a pot of boiled water, but other days, I just want to sip and taste the toastiness of rice mixed in with a gentler flavour of green tea; sitting with genmaicha is an oasis of warmth, aroma and flavour and an excuse to rest on a busy day or lazy morning.
So, this morning, that is what I wanted: to have a toasty beverage and sit and ponder the view over the treetops outside my windows. But, alas! as I grabbed the precious latticework genmaicha-filled jar, it slipped out of my fingers and crashed to the floor, much of its contents spewn out like lava from a volcano. I could smell the toast-and-tea odour as the first indicator that the tea had spilled. The words, this is all correct went through my mind as I gazed, confused, at the floor. There appeared to my eyes to be a mess of spilled, precious tea leaves and rice. But, my reflexive action was to understand it as nothing was amiss here.
I was surprised at how my reaction was not one of disappointment or loss or grieving for having damaged something so precious to me. My reaction was elsewhere, on how all things are integrated into a whole, and that there is movement forward, even in loss, no matter how great, or small.
Putting this into perspective, no one died. Yet, if there had been a death of a loved one, the first words I would have uttered as a Jew, are: Baruch Dayan HaEmet, God is the True Judge, or Judge of Truth. Either way, we are saying that things happen, and that even in loss, there is an Ineffable Presence that will always be there and hold us dear. This morning, it was a simpler version of this belief in the inevitable and unceasing flow of circumstances: accepting that all that occurs reveals and allows for something new.
I saw, not the loss of my precious tea, or myself as clumsy and bearing blame for the loss, or my becoming old and losing capacity for self-care. What I saw was that some tea had spilled, and that it was time for that tea to spill. I had been so endeared to the precious memories evoked by the jar and idea of enjoying the tea, that it had stayed in the jar, untouched, for far too long: In fact, it was going stale because of my reluctance to use any of it.*
I felt grateful for this early morning wake up: a wake up reminder that change never ceases, and that our ability to appreciate change as growth, makes us more at peace with whatever we may encounter.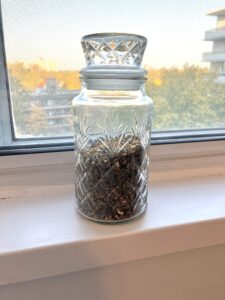 *Later on, I read that in 19th century England it was considered good luck to spill tea leaves https://twinings.co.uk/blogs/news/tea-superstitions