Narrow Bridges and Narrow Places
The 50 days between Passover and Shavuoth mark are a time set aside to mark the Biblical journey of the Hebrew people from Enslavement in Egypt to Revelation at Mt. Sinai. Egypt is called Mitzrayim in Hebrew, meaning 'narrow place'. This year, the retelling of the journey of my ancestors from out of the Narrow Place of bondage to receiving the Torah (Law), brought to mind a saying of Rabbi Nachman of Bratslav, '"The whole world is a very narrow bridge; the important thing is not to be afraid."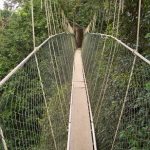 This year has been a turbulent one worldwide. There are refugees streaming away from crises in their homeland, there are reversals of progressive gender equality legislation, there are demands by college students to be provided with a safe environment, terrorism is on the rise, and at least one American Presidential candidate is running on a platform of backlash against any progressive racial, cultural or gender policies. What is driving this? Fear.
Fear from all quarters is headlining the news these days. People are afraid. Some are afraid of losing their familiar way of life, some of losing their long battle for hard-won rights; some are expecting their path to be free of obstacles, others are creating obstacles to draw attention.
It seems they are all walking across narrow bridges, or wandering lost in the desert, while schlepping (carrying) along their old fears.
In the case of the Exodus story, as soon as there was any hardship in the desert, the people demanded to go back to the Narrow Place of Egypt where things were familiar, where they even fantasized they had dined on fish and leeks.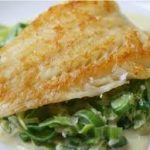 The wandering in the desert was scary; the best thing to do was blame someone, Moses their leader, for their scary predicament. It was much like crossing a narrow bridge: you are in an unrecognizable place, neither here nor there and can only go forward.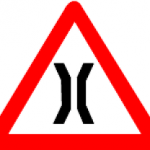 Fear of changes such as these arise in part due to a lack of structure or guidebook. The Hebrews escaped the Narrow Place knowing only that 400 years of slavery was enough, and they could not stand being slaves any longer.
They did not know where they were going; and that was scary. The narrow bridge they were crossing was certainly taking them away from a very bad place. If they could endure the chaos that resulted from a new and unfamiliar freedom things would certainly be better. They did not have a structure for this mass exodus; instead they just had to stay the course and keep walking, fear and all.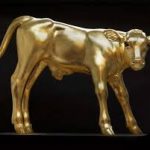 After many mishaps and building their own source of guidance with the Golden Calf, they received the Torah at Mt. Sinai. I like this Biblical example of how treacherous it is to cross from places of chaos into those of order. I believe the model can be applied to ease our modern maelstrom of push-and-shove over newfound cultural, racial and gender paradigms and events.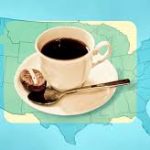 I will share a recent personal experience. I was walking home from synagogue one Shabbat. As I passed the outdoor patio of a coffee house, I overheard a very loud conversation that was overtly using expletives against both Israel and Jews. I thought about what to do about this rather brash conversation and decided to turn the situation into an opportunity to ask what the basis was for the loud and offending remarks. First, I approached the loud group of young people seated at a table and simply identified myself as one of the Jews they were deriding. As I walked away, the young people beckoned me to stay and speak with them. Through these actions, we all set aside fear and embarked upon a walk over that narrow bridge together.
We talked. When asked, they could not provide any facts about Jews and Israel; they only knew their negative views from friends' opinions and the abundance of left-wing popup news media on the street. They wanted me to give an overview of Judaism and I gave them some dates for important events in the formation of the modern country of Israel. I invited them to Google these and see what else they could learn.
Contrary to what fear might have said about this conversation, they thanked me profusely.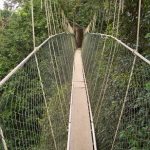 By taking those steps toward them a journey began, away from the enslaving ideas we had on both sides, toward a way of understanding how this chaos of anti-Semitism and anti-Zionism came to be.
I also learned that diplomacy happens in direct 1:1 conversations: not through online polemics, international political gestures, grandiose political swaggering, or biased news media.
I have told this story about the coffee house conversation to others. Usually the first response is, with all that pressure to conform to the status quo of the neighbourhood, wasn't I afraid to approach these young people? My reply has been that my only fear was that because I was peacefully walking home from synagogue when I overheard them, I might be violating Shabbat (the Sabbath) by potentially creating a conflict. However, the wisdom of faith told me that the honest way to create and perpetuate Shabbat peace was to take that walk on that narrow bridge and engage these people, without fear.
We observe the passage of 50 days from Passover to Shavuoth as an opportunity to take steps away from things that we are unsafely bonded to and find an order in our lives that matters.
There are still a few days left before Shavuouth begins, on the evening of June 11th. Find time over these days to leave behind something that holds you back—a habit, an addiction, a prejudice, a hurt—and move ahead with faith rather than fear, that something good lies ahead.