30 Nov 2020
This evening I was playing a piece that enchants and inspires me every time I hear it, and it does all the more so when I make the opportunity to play it. Yet, that I can indeed once again play this piece after so many years of near incapacity, fills me with even that much more awe and inspiration.
In practice this evening, unlike in the past when playing oboe was a fond and fulfilling routine, I took nothing for granted, let no errors go uncorrected. Not the slight breaks in airflow or sound between notes, not the over-blown pitches, or bumpy steps over smooth phrasing.
I worked over, 'wood-shedded', my habit of wobbly hand work over the instrument's C-D bridge, and from F down to Eb, and from B up to Eb. I did this by putting my mind into each finger, timing their placements on the keys so to match the breath; and then asked my fingers if they were was happy with the sound we were making. The conversation invited loving, gentle and correct fingerings to be made over these keys.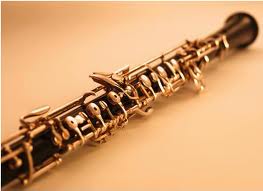 As the dialogue between mind and hands proceeded, each success celebrated and repeated, a new song emerged from the score in front of me. Shedding the old, habitual, chopped up phrasing that was the result of my technique's constraints allowed the correct phrasing to emerge. I understood the piece and conversations within it as never before. A new era of music playing and appreciation was dawning;
I now played the music as written, rather than as per the limits and parameters of my technique, and the music suddenly appeared, as if stepping out from behind a cloud.
What was this special piece? 'The Sonata for Oboe and Piano', by C. Saint-Saëns Op. 166. I first heard it played on the 1998 recording by Joseph Robinson 10 years ago, and have been in a swoon over it ever since. It was only a fantasy to ever be able to play it myself.
Once I was a competent enough oboist and dared myself to try playing it though, it became a standard in my personal repertoire. Playing it for myself became a way to create retreat and comfort.
Tonight I had uncovered the beauty and integrity of the Sonata, much as a restoration curator of classical paintings painstakingly reveals a masterpiece hidden away under centuries of accumulated of dinge and grime.
I also had a big memory: Not so many years ago, I occasionally provided a 'Music and Spirituality' program for a hospital's inpatient Psychiatry. Each time I went, there would be a different crop of inpatients in the group. The program provided a processing opportunity for them; the Psych staff attended to observe how the patients were managing.
My memory was of the time I brought a variety of sensory things for the patients to try out, some auditory, some visual. I opened the space with calming recorded music as they entered the group room and seated themselves around the large table. I also brought some cutouts of animal cards for them to select and share their thoughts on, if they wished. This seemed like a low impact way to bring comfort and familiarity into the participants' clinical environs.
The recorded music was the Sonata. Its tentative nurturing calls, plaintive cries and delicate appoggiaturas seemed just the right thing for soothing and welcoming people over a threshold and into the activity.
As usual I did not read the patients' files or take briefings from staff ahead of time. I prefer to work cold, coming into spiritual care 'as is', without preconceived notions of the care recipients or the interpretations of them from other staff. But as the music played on, I saw one of the patients, someone close to my own age who sat across the table, lock into a stiffened face. He appeared about to break into tears, but instead hung on stolidly inward, expression held flat and pale.
I stopped the music, it seemed to be a disturbance for him rather than the comfort I'd expected. So much for planning! The patients were now invited to pick 3 or 4 of the animal pictures, which they all did. Except the man with the stolid face. We were began to go around the table to share our pictures, what we picked and why, how we felt about our animals. But then the man began to wail.
Oops, now what have I done? I felt a panic, would the Psych staff be annoyed that my program was upsetting their patients? One of my spiritual care talents or gifts is to unwittingly step directly into a patient's most guarded hurts. I learned early on that these breaks are where the healing takes place. But it still remains a surprise when the shatterings of calm happen.
I knew that my job was to help these patients open up in a safe space, but this was a huge eruption! I watched and let him bawl, and the staff and other patients did, too. When the momentum of sobs eased, there became an opening, and I asked him what had brought the emotions up.
It was the music.
Tell me more about that, I asked, and he did. He had been a professional oboist himself, and this was a piece he'd worked on and perfected, and had performed at significant events. Playing oboe had meant everything to him, which I thoroughly understood, and as he lost more and more of himself and drifted into illness, he had stopped playing oboe altogether. It was this moment, of hearing this piece, that he realized just how deeply he had sunk into illness. He had believed he'd had the ultimate loss, and would never play his beloved instrument again.
I wanted to encourage him to go back to playing again, but instead gave him room to mull over the choices he'd made and this loss. I saw from the other staffs' faces that this was significant. My jumping to encourage him to play oboe again was the least helpful thing to do right then. In fact, that would have been about my needs, not his. The oboe playing might perhaps resume some day, once the other bigger issues that had brought him to this current level of illness were resolved.
The time left for sharing the animal cards had passed by and gone. Instead of that, the other patients listened to his story, and some also had tears. His story had stirred up recognition and painful feelings of loss for others, too. The work of opening up was done, not exactly via the white lace and doilies activity I had planned, but in a significant way nonetheless. It was time to end the session.
After the patients left the room, the lead Psychiatrist for the program came up to me to express her wonder and gratitude. That man had been 'a hard nut to crack', refusing to accept how unwell he was and downplaying the impact of so many accumulated losses. With him so stoic, they had not been too certain of the benefits of treatment, or his prognosis, but now they saw hope. Her gratitude was enormous.
I have no idea what happened with that patient after this breaking open; it does speak to the power of music, and of tenacity and drive of spirit.
In last week's Torah portion, Jacob meets his future wives Rachel and Leah. He also meets his biggest nemesis, Laban, his uncle and soon-to-be father-in-law. Jacob went to work for Laban as a young man, in love with Rachel and earning a living to support his new wives and family. But gaining wives and a job and money did not make him a fully mature adult; his Uncle Laban played him for the innocent over and over again.
Jacob succeeded in outgrowing his acceptance of this demeaning treatment in two ways. First, he stopped seeing himself as a hapless youthful victim. That liberated his beliefs that Laban was his controller. Second, Jacob used his smarts to create a way to surpass Laban and gain liberation and independence; he used his knowledge of flocks and breeding to create a scheme that would outsmart Laban's expectations.
Jacob, no longer a soft, trusting youth, was now an empowered and successful husband and a keen business man. It was not by passive inheritance that he earned the title of Patriarch for the Jewish people.
And so, Jacob models for us how to change from being a victim to becoming mature. It took several experiences of treachery by Laban before Jacob finally became activated enough to outgrow his uncle, but he took that challenge on, and did.
And so, we have choices. If we perpetually suffer in silence as the obedient child we cannot grow. Something has to awaken and liberate us from others' fears of us responding to our strong and natural feelings of dignity and self-direction.
We must feel the pain and anger of what is making us hostage or unwell, as did Jacob in the Torah, and the oboist in the inpatient group. Judging ourselves as if there are 'good' or 'bad' or 'positive' or 'negative' feelings can be ruinous. All feelings are important and must be felt and listened to in order to thrive and become self-sustaining.
Jacob had several choices once he finally felt enough frustration, and chose to be smart and confident and outdo his abusive uncle and truly become the master and overseer of his own household. We have choices, too. I don't know what the man in the program eventually chose to do, but I do know he had a loving team of professionals and patient peers to help figure that out.
Music is emotive information, without analysis and words. Emotions allow us to directly access what is deep inside. As one experienced Psychologist related to me about talk therapy, "talk is cheap; it's the relationship that counts". And music is relationship: feelings expressed and shared, passed amongst composer, performer and audience.
Let us learn what we can from the music we hear, from feelings that it evokes, and how these touch us inside and can set us in motion toward better things.