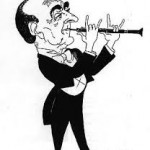 "You see what fun you can have with your music, ha ha" The scratchy, flinty French-accented voice came from my summer oboe teacher, Joseph Robinson, who was patiently and warmly showing me how to play music rather than strings of notes on the instrument. He was lovingly making light of one of his teachers, Marcel Tabuteau, as his way of affirming the ordeal of taking on the playing this instrument, which I along with so many others brought onto ourselves, because we cannot imagine life without it.
What is it about oboes? I was captivated by them at age 13 when my Beginning Winds teacher showed us a scratchy black and white film about double reed instruments. That afternoon I had been prepared to drop off to sleep as soon as the lights were dimmed in the autumn heat of the band room. Instead of boredom, I began to hear earthy, unctuous sounds crying out of the projector's sound box. I was transfixed, bewitched by the slender and seductive black ebony body of the oboe on the screen. The memory of it predominated everything in my mind for weeks, and finally, my flute teacher brought me an oboe to try for a few months. He handed me a questionably useful reed and the advice that he didn't know how to play an oboe, but the fingerings were similar to the flute's. I tried it and a crappy sound came out: success! I'd made a sound! After he left, I took it into my room and shut the door. More crappy, happy sounds came out! I was playing! After that, I played my flute music on the oboe. I was enraptured; my dog hated it. After three months, my music teacher asked for the oboe back. It was rented on trial, and it had to be returned.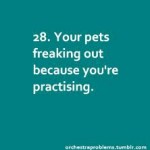 For decades, I wanted to play oboe, and put the flute away and became a biologist. Then a homemaker and parent. When I turned 50, I started to find time for myself again and walked into a music store one day, thinking I could rent one for a month and either get it out of my system, or maybe…keep playing. I kept playing.
Much of my life these days is structured around playing the oboe. I no longer scare my pets, in fact my cat goes for her special listening perch when I start to play. I considered going to conservatory and making it a livelihood, but the reality of my increasing age caused me to listen to advice and keep playing as a passion. In the meantime, I began to develop my studies and livelihood as a Rabbinic Chaplain. I have had no problem finding intersections between my work in spiritual care and playing music.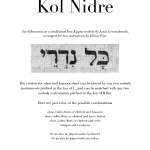 There are times when words just are not right. Music is prayer without words. When Reb Zalman Shachter-Shalomi z"l died this year on July 3rd, I was in Oregon at the ALEPH Ordinations summer retreat program, along with most of the teachers in the ALEPH programs. When we heard the news of Reb Zalman's death during the break in our morning classes, a reforming of our world began. People had been touched by Reb Zalman in so many different ways. Some had had very deep and personal relationships with him, others were colleagues, students, newly ordained, and some were his first musmachim, ordainees. I had met him for a personal moment last January, in a frame of stillness amidst a crazy busy conference room at the annual OHALAH gathering in Boulder, CO. He was very kind and loving, clearly appreciative of the efforts we students made to learn and then teach others how to live in the four worlds of doing, feeling, knowing, and integration. When I heard the news of his death, my mind immediately went back to that tender moment with the kindness in his eyes, and their beckoning instruction to share that kindness, and with strength and conviction.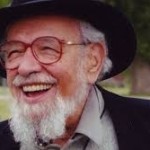 Another student and I were scheduled to lead the next service in the afternoon that day. At first, some balked at the notion that two students would lead this congregation of leaders and teachers in this first gathering and service after Reb Zalman's death. I was not afraid: I said who but his students' students should lead this service? The faculty debated this along with so many other immediate decisions, and they came to us with the request for us to lead this service. My companion and I then spent the rest of the day together. We supported each other: her poetry was perfect for this service, and my oboe playing was a natural complement. We chose thoughtfully and deliberately what order things would be in, maintaining the liturgical flow, but with the colours of poetry and music. There had been rumours that my voice was not strong enough: and also loving encouragement that nonetheless, I was strong, and to find the way to use that strength in prayer leadership. I decided to open the service with 'Adonai Ro'I Lo Echsar', Psalm 23, composed by one of my teachers at the Jewish Theological Seminary, Hazzan Gerald Cohen. He had written the melody as a dedication for a friend who had died, and I always felt swept aloft when I played it.
We decided what to wear, bookended ourselves, her with colours and myself in golden hues. We went to the sanctuary and set up the room, and then dressed. It was getting to be time. One teacher wanted to lead the first Kaddish Yatom after Reb Zalman's passing, the prayers of mourning. He suggested my partner read the psalm as the music was played. I confidently said this is a time beyond words now, and that prayer was also in music. He assented.

I now have to admit that playing this piece as an unaccompanied solo had always brought me many challenges, especially in endurance over the length of the continuous playing, the many rises and falls in emotions and dynamics, and the juxtaposition of difficult fingerings. Despite this, I have played the piece numerous times in public, and what I wanted now was to create an opening in hearts, to give the signal that it's okay, go ahead and feel as we move forward together.
The time came, and I brought the instrument to my tongue and rolled the reed back into my lips. It was a good reed, one Joe had made for me, and it was good music, re-written for solo oboe for me by Gerald. It would be okay, everyone was where they needed to be. I played what I felt in me, from the timbre of that day and of others, and what I so longed to be able to do when I was 13. As often happens when I play at auspicious times as these, the pages of music disappeared, and rather than being fearful, I let go and disappeared too.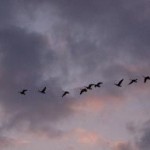 Towards the end of the piece I returned and knowing I had a good reed and instrument, brought the piece in to home with a dropping off of a pianissimo down into a soundless abyss. Then, my partner read her poetry, and I channeled my strength into leading the room in prayers. More poetry, prayers, and then a close of the service with my oboe. Uh oh, this last piece was such a low register, and I had not planned how much to play or when to let the congregation take over the melody. Somehow, it all blended, almost in a call and answer of melody and chorus. I put the instrument down and breathed. For a moment I looked at my partner, and then we were mobbed. Teachers and congregants came to us, grateful for the words and music, some in tears, others with hugs. We had opened a space together, poetry, music, prayers.
Why do I play the oboe? For me and for you.