Jewish Music: The Sounds of Our Lives
Presented to Congregation Beth Shalom, September 1 2018:
I live, year in and year out, in a constant state of emptying and letting go, of internal inventory of what resonates as my truth, and what does not: it is my nature to do so; and I gain balance and meaning through being this way.
Thankfully, I have found a vocation that requires this sort of temperance: as a Jewish Spiritual Care Chaplain. Our extensive training is that when we pay a spiritual care call to someone, we must leave ourselves outside the door. We enter the room as an empty vessel, and create a sacred space with which to invite in the Divine Presence.
My other Profession, as a Musician, is the same. One must empty themselves of distractions as preparation for standing before an audience to perform; otherwise the music will be crowded out by unresolved thoughts and feelings.
This is even more so if one is a Prayer Leader, a shaliach tzibor: the prayers will not reach the heights and depths that touch the hearts and souls of congregants: the sad places, and the memories of joyous times, or of loved ones that have passed, if one's being is preoccupied.
At no time of the Jewish year is this work of emptying and creating sacred space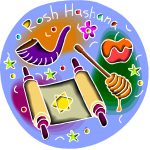 for ourselves more important than at Selichot and during the Yamim Norai'im Days of Awe.
Just what defines Jewish music?
And…How do we learn to empty and renew as a pure vessel, and as Torah bids us, as newly fallen snow, to let go of the past year and be receptive to the New Year that lies ahead?
Maybe the secret can be found in the voice of the cantor on Yom Kippur at Kol Nidrey, the sound of the ancient Oboes in Temple Times, or in the sound of the Tekiah of the ram's horn Shofar.
In other words, let's talk about Jewish Music and how to prepare for the Jewish High Holy Days.
It is now accepted that humans had musical sounds before spoken language. That is not surprising: banging on logs or vocalizing to send and feel messages is something even animals do.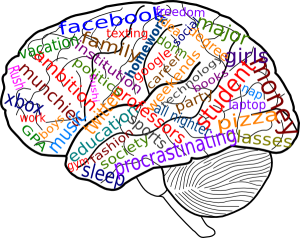 As humans we are unique in having created languages, but words speak primarily to our logical brain centers and thinking.
We have another equally important part of our brain that works alongside the logical mind, and it responds to felt stimuli. That means emotions, but also physically felt stimuli. Music.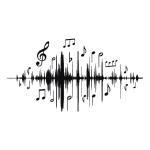 Music is vibration. When we engage with music, we can turn off our busy thinking minds and let the experiential part of our bodies take over.
I know this as a Hospital Chaplain: how many times have I sat with a patient who was deeply feeling, but we agreed, couldn't find words for what they were experiencing?
Listening to music or singing prayers is often the vehicle that moves patients through difficult experiences and allows them afterward to then articulate their needs and hopes.
­­­According to Peter Gradenwitz, an instrument, "the halil occurs in the Bible for the first time in connection with the anointment of Solomon.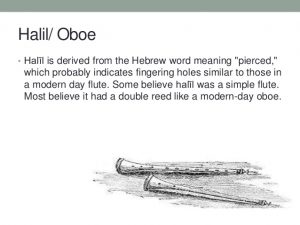 This instrument is not mentioned as having been used in the services of the 1st Temple, although one commentator thought it came from the days of Moses: in the 2nd Temple two to twelve halilim were used on twelve days of the year—at the first and second Passover sacrifice, on the first day of Passover, at Shavuot, and in the eight days of Sukkot.
Though in Modern Hebrew a halil is a flute, the Biblical equivalent has been interpreted as a double reed of the oboe family, because no flutes appear on any picture of neighboring civilizations at the time, and the Greek and Latin translators of the Bible were surely right when rendering "halil" by a word describing an oboe. In later Aramaic translations, the instrument is called an 'abub', the modern Hebrew word for oboe."
These days, you can find YouTube videos of music as it was thought to have been performed in Temple Times. Go have a look.
But even before the Temples were built, King David wrote his Psalms. According to Alfred Sendrey, out of 150 psalms, 55 contain the introductory indication la-menazzeach.

Menazzeach is the singer chosen to lead the music or to officiate as precentor who probably instructed the choir, and may be considered the precursor of the Cantor or Hazzan. The first singing master of the Davidic music organization was Chenaniah. We read in (1Chron 15:22): "He was master in the song, because he was skillful"
Leaping from King David to the Exile we find a serious reference to musical instruments in Psalm 137: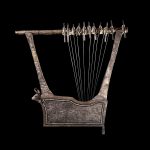 "By the rivers of Babylon, there we sat and also wept when we remembered Zion. On the willow within it we hung our lyres. For there our captors requested words of song from us, with our lyres, playing joyous music. "Sing for us from Zion's song!" How can we sing the song of Hashem God upon the alien's soil?"
The psalm is wrought with the pain of not only being exiled from Jerusalem, but with the taunts of their captors, demanding they joyously play music of Zion for them. Instead, the exiles hang up their instruments upon the willows by the rivers of Babylon. And thus, in sorrow, ends the prominence of instrumental music in Jewish worship.
When the Temples were destroyed and Rabbinic Judaism began, music didn't go entirely away. It became the tropes and nusahs that we use in our prayer liturgy and text readings. Ask any rabbinic student: studying page after page of Talmud is almost impossible without having the familiar sing-song chant with which to read it. The verses of Torah and Haftarah are written in metrical phrases designed to be sung, not read as prose.
The ways of singing and of performing music in both Temple and synagogue became a decisive factor in the development of Occidental music; for the earliest Christian precentors were brought up in the Jewish houses of worship, and only adapted ancient Hebrew custom to a new purpose when they converted to Christianity.
The church took over the responsorial singing of the Middle Eastern modal melodies and many other Oriental musical features.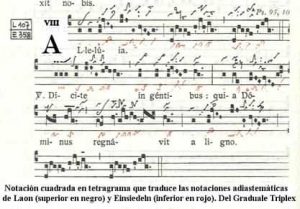 The hand signs and accents, the trope marks, were also adopted and from these, called by the Church 'neuma', which came from the Hebrew word ne'ima, for a modal song or melody, became in the Second Millennium CE the musical notations that now indicate the exact pitches and durations prescribed by a composer. Almost as we have today in sheet music.
So, over time, music left the synagogue.
Our sages, Poskim and Gaonim, decided after the Jewish Diaspora to move away from feelings and emphasize text and words; and then they decided that after centuries of music in the Temples that now carrying and playing musical instruments was deemed work that violated the Shabbat:
The logical part of our brains must have decided that!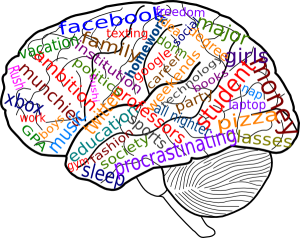 Music became the thing of ceremonies, of celebrations. Musicians for weddings became known as 'song vessels' or klei zmir. "Klezmer" became the name for our unique style of Jewish popular music.
We Jews brought our instruments and music with us to the United States in the 19th-20th centuries, and deeply infiltrated and defined everything from Jazz to pop show tunes. There is a great documentary about Jewish music in Hollywood, I think on PBS or National Geographic.
So, Jewish music became entertainment. But that too is changing. Some teshuvah, or thought about return, is happening with regard to music in synagogue by some Jewish movements. The reasons for removing it have been reflected upon and felt, and changes are slowly being made. Many synagogues, including Conservative synagogues are embracing instrumental music as an essential partner to liturgical prayers.
Tonight, this evening of Selichot, of remembrance, forgiveness, and new opportunities to be better versions of ourselves, is also an opportunity to try a new way to enter Teshuvah. Let us try through the model of music.
As I said earlier, playing music requires becoming an empty vessel. And I thought I'd been playing oboe pretty well, until I decided it was time to wean myself from the comforts of sheet music and learn to play jazz improv. The first words of the improv workshop instructor knocked me off my seat:
She said, "Jazz is about listening and allowing empty space."
Here was the bridge between music, chaplaincy, and teshuvah.
I have talked about the first two, music and spiritual care, now. But tonight, Selichot, is particularly themed about Teshuvah.
I going to presume that most of us here know the general formula:
*Reflect back on a regrettable situation from the past year.
*Think about what went well, what went wrong.
*Try to apologize to any other person involved, keeping it simple: no qualifiers such as justifying what you did; just a straight heartfelt apology is good.
*Have that talk with God: did you have a fallout or breakup or divorce with this spiritual relationship?
*And also remind yourself of why you decided that any of these were your best choices at the time, and allow yourself to feel. That part is hard, the regret, the sorrow, the hurt for a past decision. But let the feeling wash over you, and then it will pass, as if you were left lying cleansed on a beach after surviving a stormy sea.
*Forgiving yourself or the other person is essential: this is how we become cleansed, empty vessels. This is how we grow from the willful hanging on of hurts and baggage, to the willingness to become the engaged adult. This is Selichot.
*The final step comes in the future: if in the same situation, will you do the same thing, or were you able to let go of the wrong decisions of the past and grow into the better ones for the future?
You have to be empty and listen in order to do this work of teshuvah. You have to be able to turn off the thinking and noise in your head in order to feel the remorse and move on.
We Jews have evolved a clever way during Elul of shutting off the inner talk and texting that may be distracting us: We blast on the Shofar!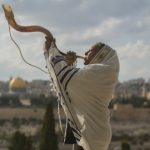 The Shofar is the remnant of Biblical instruments that is very much extant. No one shouts, Hey wake up and listen to God! Don't text while praying! from the Bimah. It just won't work. That would just be mere words.
But the Shofar, with its penetrating pure sound, makes a direct hit into our hearts and pulls us upward, releasing us from our bondage to words and thoughts.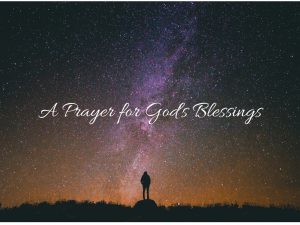 No one wants to sit with difficult feelings all alone. That's rough. The good news is that you don't have to be alone; whether it happens in synagogue or the privacy of your home. Because on Rosh HaShanah, as always, God is present. And at this time of year we think of God as our King, but not a king to punish us for our past mistakes; a watchful King, a King who wants us to be strong the way God is Strong, too. We prepare by cleansing ourselves inside and out, and then march past, not knowing how the year will be, but knowing that we are accompanied by our King.
As we've discovered, Jewish music is everywhere, from Jazz to Gregorian chant to Hollywood to Bnei Mitzvoth and wedding celebrations.

This year, let Jewish music be part of your renewal. Remember our rich heritage of worship with music and musical instruments.

This year, we'll have oboe music as you enter the sanctuary for Kol Nidrey; and when you hear the Shofar during the services, let the sound cleanse your mind, and allow the process of Teshuvah and Selichot to…

…Return You Home To Who You Really Are…
L'SHANA TOVA V'ZIMRA