Va Yetse: And He Went Forth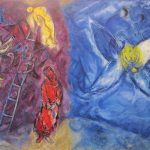 Yaakov (Jacob) left Beersheva and headed toward Haran. When it became dark he placed a stone for a pillow and lay down to sleep. Then he had a dream of a ladder, its base on the ground and the top reached up toward heaven. God's Angels were going up and down on it.
In many theologies, from Taoism to Judaism, humans are the link between Heaven and Earth. This is apparent in how the ladder has its feet on the ground and top in the heavens. The link between these realms is Yaakov.
As a sleeping dream, Yaakov then sees God and hears God telling him that Yaakov and his descendants will inherit the land upon which he sleeps. The waking Yaakov still has a sense of God's Presence over the next 20 years.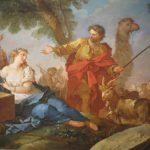 During those 20 years Yaakov works for his uncle Lavan (Laban). At first, Yaakov works toward having the hand of Rahel (Rachel) in marriage. But Lavan tricks him and provides his other daughter Leah. Although Yaakov can marry Rahel a week later, he must work another seven years to pay for her hand. After those 14 years, when Yaakov is ready to leave with his share of livestock, Lavan creates a complicated system of accounting of them. It takes Yaakov another six years of tending and breeding before he can take the right portion, those animals with marks or streaks.
This story begs the question, how much do we allow ourselves to be in apprenticeship, servitude, or manipulation by our superiors before we learn to overcome and surpass, and regain our individuality?
Yaakov was spoken to and appointed by God, yet for 20 years he worked as a servant to Lavan. Eventually, Yaakov reaches the point of seeing his own value and wanting to resume the destiny set out by God, to inherit the land where he lay in Haran.
Fate interceded. Yaakov was waylaid by Lavan. This was a necessary step in the formation of Yaakov's destiny. Under the servitude of Lavan, Yaakov developed the understanding that he must move on. He then also learned how to master his Fate and become a mature and confident strategist, necessary skills for leadership of his family clan and nation of descendants.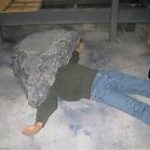 I am reminded of the story of the disciple who dutifully moved stones for his Master as requested as part of his training. He grew tired of moving the stones and asked when he would advance from apprentice to master. His Master laughed, pointed and said, "Move more stones!"
We believe it is a Master, teacher, or employer, who dictates when we are finished with our education. And although sometimes we must earn a certificate or degree, we still find ourselves going back for more education, CEUs, PD, and even higher level degrees. You will continue to carry stones until you are ready, as Yaakov was, to forge ahead with your purpose, work or destiny.
Yaakov spent time growing from resentful youth, into a man who could use the knowledge he'd gained from years of tending Lavan's flocks to reward himself with the fortune he'd earned for Lavan. Even Lavan acknowledged that Yaakov was lucky for him: his flocks and wealth were nothing until Yaakov showed up.
In addition to leaving as a wealthy head of a very large household, Yaakov had confidence. You might even say Hutzpah. Lavan, angry that Yaakov left without his knowledge, was cajoled into having a treaty land pact with Yaakov that was satisfying to them both. Indeed, Yaakov no longer carried stones for Lavan.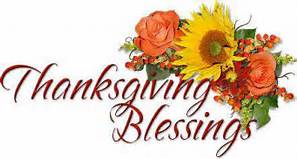 With regard to the American Thanksgiving holiday this week, Yaakov was grateful to God. He made pillars to God both before and after his life with Lavan. Lavan for his part, never really seemed grateful until Yaakov created the pact with him. Lavan's outlook was changed, he acknowledged with gratitude Yaakov's contributions and his own gains; he then blessed his grandchildren, Yaakov's clan.
Truly, when we act as a link between Heaven and Earth, we may fulfill our Destiny; to bring gratitude, acceptance, and holiness into the lives of others as well as to ourselves.
©Susan J Katz 11/2017