Noach and Texas: Lessons from the Floods
This post is a D'var Torah (sermon) that I was invited to give on Shabbat Noach at Congregation Beth Shalom in Bermuda Dunes, CA on October 21st:
Last Shabbat, our Spiritual Leader, Ken Hailpern, gave an inspired d'var Torah about how so many of our Jewish values of caring for others and taking responsibility come from the earliest chapters of Beresheit (Genesis).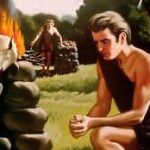 We heard how God brought words of comfort to Cayin (Cain) whose face fell after seeing how his brother Hevel's (Abel's) sacrifice was accepted, but not his own. And we heard how Cayin replied to God, "am I my brother's keeper?" when God asked Cayin where his brother Hevel was. I will return to these sacred moments later.
Today's parasha (weekly Torah reading), about Noach (Noah) and the Flood, apparently was an inspiration for Ken. He asked me to explore the Biblical Flood story in the contexts of recent worldwide natural flood and hurricane events, and with my participation as a volunteer American Red Cross Disaster Spiritual Care Chaplain, assisting with evacuees in southeast Texas.
But I have to go further back, to my first encounter with the Flood story, when I was about 3 or 4 years old,
plunked down for my first time in a Jewish Sunday school classroom, somewhere in the San Fernando Valley,
just as they were about to sing the "Arky-Arky" song. Anyone know it? (? Noah, he built him, he built him an Arky-Arky [repeat]?).
I wasn't sure who this Noah fella was, but the song was great!
This fabulous song was followed by a discussion about who or what God was–did he sit on a throne in the sky? was he old? did he have a long white beard? or was God invisible and wise?
I was hooked on Judaism from that day onward.
Okay,
now let's go forward many decades to my current version of Jewish engagement:
In 2010, after decades of volunteer and lay leadership in the Jewish communities of Vancouver, BC, I decided to begin the arduous path of training to become a spiritual care chaplain. It took about 5 years of full time study and I am now an NAJC Professional Jewish Chaplain.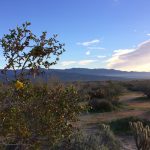 I moved to the Southern California desert this past May, not to take a job; but to enjoy better health in a serene and protected desert locale.
And then, just as I was unpacking and wondering what I might want to do in my new community, hurricane season came to the United States.
In response, my professional chaplaincy associations sent out emails for those who wished to fast track to join the American Red Cross for deployment.
I did not have to think much about going, except–that this deployment would not be restful, and it could cause me some health problems from exposure to contaminated water and lack of good sanitation.
I responded to the email anyway, went to my regional American Red Cross (ARC) Head Quarters, and after an introductory 'boot camp', I was sold.
I had responded online on Friday, and was in Houston four days later, on Tuesday September 5th.
I had the privilege of meeting the National director of Disaster Spiritual Care (DSC) at Houston HQ, and with his approval, was assigned the George R. Brown Convention Center mega shelter, which now housed 1,200 evacuees, down from 5,000 at one point.
The second day there, just as I was settling into getting to recognize residents' faces and enjoy the company of newfound colleagues from other faith groups, I was told to join two others and drive to Beaumont-Port Arthur, Texas. There were as yet no DSC chaplains at all, and the 3 of us would attend to shelter work for that entire region.
We each had our own rental vehicle because unlike anyone else, the three of us were to cover the entire southeast Texas area. We were housed in a staff shelter with 200 other volunteers, on cots, with freezing A/C blasting to keep germs at bay, and no potable water to bathe in or drink.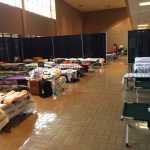 Over the usual breakfast of sugary granola bars and fruit cups and potato chips, we decided to split up and drive to different areas of the region to see where the greatest need was.
I settled on ministering in just one shelter—the Thomas Jefferson High School in Port Arthur, TX—"TJ". Port Arthur is one of the poorest areas of southeast Texas, and the US in general. These people were now in their 3rd or 4th shelter, with all of their belongings stuffed into old bags or plastic storage bins beneath their cots.
I use the word 'minister'; it is not a Christian word, it is noun and also a verb that is used in many contexts. For example, I lived in Canada for almost 40 years and there we have Ministers in our Provincial and Federal houses of government. Ministers administer services to people, both secular and faith-based. The work is ministry.
I had little trouble easing into ministry in Port Arthur. The residents, evacuees, were predominantly black, very low income, and often with health problems. Anyone affluent had already found alternative housing somewhere else, with a relative, friends, etc.
These remaining 250 or so people at TJ were looking for places to live, and were waiting for organizations such as FEMA to assess their homes for damage and give them funds to repair or rebuild.
Perhaps because of my life experiences as a cultural 'outsider', a single, middle-aged Jewish woman, living in predominately white Christian communities, and receiving chaplaincy training mainly with Christian peers–I was able communicate my otherness, go alongside others whose lives are not mainstream, earn trust, and be with them in their search for spiritual comfort.
I mainly roamed the vast rows of cots filling the two gyms at TJ, checking in with my eyes and ears and 'Spidey Sense' with residents. I was their advocate when needed services were not being given, a guide and motivator when the chips were down, prayed with and for them, held their hand if waiting for the ambulance, comforted and debriefed when traumatic incidents happened, ran interference when tempers flared, got crabby volunteers to loosen up, and made referrals to my colleagues in Disaster Mental Health and Disaster Medical Assistance Teams.
I also made sure kenneled pets were watered and fed, cleaned up childrens' toys, and played maid and waiter to pamper burned-out parents.
When I arrived at TJ, the residents had already been there 10 days, and found their spiritual leaders—amongst themselves–an assistant minister and his wife; the maintenance man for the school itself was a church pastor.
I thought about other Bible characters, such as Amos and Elijah.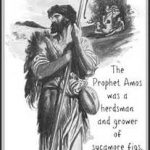 The example of the spiritual leader who is a regular person, someone who tends orchards, plows their own fields, and cleans schools for a living. We don't know what Noach did for a living, but we do know that he was by nature righteous, and someone who walked with God; perhaps strolling together in conversation, as one would do with an earthly companion.
No one at TJ ever asked me, "Why did God do this to us?" or "God has sent a Flood like in the Bible, to punish us and the earth"
Instead, almost everyone I sat with talked about Faith. They had Faith that there would be relief. They had faith that despite the disaster, God was walking with them, and watching and taking care during this disaster. They often had anecdotes of previous hurricanes or floods they'd evacuated from, and how by trusting God and accepting the help that God had sent, that they had been taken care of then, and were certainly being helped now.
I think we Jews don't talk enough about Faith like this. Much like the term 'Minister', Faith is seen as a Christian concept. In Judaism, we talk more about 'Mitzvoth' and Actions.
But I want to tell you that Faith and Mitzvoth are the same thing.
As an example, it is a mitzvah to keep kosher. Many of the rules of kashrut do not make logical sense. But observant people do them anyway. Why? because it is an act of faith.
Faith works in that we do not have to understand why, that by being consistent and having these structures of precise foods or ways of blessing them, we will grow inner, rather than outer, strength, grow stronger as individuals and as a people, and thus know God better.
In this same vein, the people of Port Arthur knew how to recognize God's faith in them. They could graciously accept help because they knew they could not get by on their own–and that God was at work when neighbors helped neighbors, rescue operations came, shelters went up, and agencies came to assist.
They knew how to reach out to one another because their Christian teachings told them that that is the right thing to do; people from all over the world reached out to help.
It was a privilege that after only 3 days with them, the two TJ preachers asked me to co-lead a Sunday morning service. Having had the privilege of attending black gospel churches in Harlem and Brooklyn during my chaplaincy education, I was so very pleased to join them.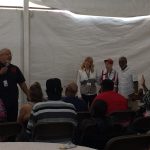 On Sunday, alongside a mighty preacher with his golden baritone voice, this man motivated by personal loss, by the flooded homes, and the pain and longing in that shelter; and alongside the assistant minister lovingly reading Psalm 27; I gave prayers of thanks to God for spreading his sheltering wings; and encouraging all to reach out to give help; and to reach out to accept help; and all of us came together in song to close.
These men and women of faith have become life-long friends. We led another service together the following Sunday in yet another shelter, which these 250 residents had been transferred into.
Now: Let's go back to the stories of Beresheit, of Cayin and Hevel, and of Noach. From the story of Cayin we learn that even if we are God and try to reach out to comfort someone when their face has fallen, it is up to that person to accept what is. We cannot arrogantly expect to change or fix others, even when wearing an ARC cap and vest:
As a chaplain, I have learned to accept my clients' choices. I stay out of their way because I have faith in them. Sometimes, by seeing my non-judgmental faith in them, they find restored faith in themselves or with God.
In parashat Noach, although the story of a destructive Flood outwardly seems so apropos to my situation, it was really the character of Noach and the instructions that God gave for building the Ark that characterized what I experienced amongst the evacuees.
In Gen 6:9, "Noach was a man of simple righteousness amongst his generation. A man who walked with God."  נח איש צדיק תמים היה בדרתיו את־האלהים התהלך־נח׃
Religion is not mentioned in the Noach story. God tells his walking partner, Noach, a man that stood out amongst others, that humans and all life have made a mess of things, and that he will destroy all of it but save a few good seeds, and start fresh.
And in Gen 6:14 what does God tell Noach to line this protective ark with, to keep it watertight and safe, inside and out? כפר pitch. The same root letters as kippur, as in atonement.
When we are 'at-one-ment', when we trust inside and out, when we follow illogical algorithms of faith, our lives become straighter and less complex.
We are then walking with God.
Far from being a punishment, many of the shelter residents expressed their belief that the hurricane was a blessing because it caused so many lives to be repaired.
Indeed, family members who had been estranged were now reaching out to each other to provide homes and assistance; people who had been isolated before were now flourishing by finding meaningful helping roles; people were returning to church; having lost excess baggage, many were now finding blessings and gratitude for small things.
In this hurricane flood Ark/shelter, they were finding at-one-ment.
Ken, you picked a great Shabbat for this d'rasha; I feel that my life has come full circle: my childhood affinity for Judaism and Jewish ways that began with the "Arky-Arky" song became manifest in the most unlikely of environments, and I thank you for allowing me this opportunity to both share the stories of the people of Beaumont Port Arthur, and to create a deeper understanding of the stories of Beresheit.
It was a privilege for me to know these people. I was fortunate to have a role where I could freely do my job. No one told me how to offer DSC to these people; we were deployed because we were seen to have the expertise to be self-directed and create an ark of at-one-ment for the people of Port Arthur.
I saw faith enacted, and it gives me comfort to see how powerful faith; in God, in one another, and in oneself, can be.
Shabbat Shalom
©Susan J Katz 2017