First World Problems vs Beaumont,TX
I am writing from the deck of a cruise ship after having spent two weeks on deployment as a Red Cross Disaster Spiritual Care Chaplain in Texas.
Currently, I am the cruise ship's rabbi and chaplain for the Jewish High Holidays; however for the weeks of September 5-19, I was deployed by the American Red Cross (ARC) in the role of DSC or Disaster Spiritual Care to provide assistance after Hurricane Harvey.
Let me show you what I learned about the difference between First World versus Real World problems, and spiritual distress.
My deployment to Texas occurred within 72 hours of signing up with the Red Cross Volunteer Connection site. It would have left sooner but I took a day to pack and find neighbors to mind my new home in the Southern California desert area.
As a hospital chaplain with 6 Units of Clinical Pastoral Education (CPE), I was fast-tracked into service. My flight arrived in Houston, TX around 9pm. My cellphone immediately rang with instructions to pick up a rental car and drive to a staff shelter in a church near downtown Houston: I had been binge-watching the original 'Mission Impossible ' episodes for the past few weeks; now I was living them!
In brief, I did not sleep that first night in Houston.  On a bare Red Cross cot with not enough blankets to keep warm, I began my 2-week saga of life with ARC Disaster Relief.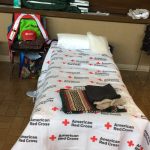 Breakfast was granola bars and coffee and I received yet more instructions by text to go to Houston HQ. I met the lead of DSC operations there and received my first briefing interview. My placement was to be at the Houston George Brown Convention Center (GBR), where refugees had numbered over 3,500. Now the Red Cross was downsizing to 1,200 residents, hoping the city of Houston would soon accommodate the remaining evacuees.
While at the GBR I ministered to people of all faiths, mostly helping residents locate the right services for their needs: FEMA, food stamps, reunification services, meals.  I was approached by news media who asked me to provide a resident who could tell their story of being homeless and how the Red Cross would help them find housing. I hesitated to do this, as my profession's ethics require confidentiality with clients. "We don't wish to exploit anyone" the media rep said. I claimed inability to provide such a resource for the news media. My primary duty was to aid survivors and ease their distress.
After two days at the GBR, I was transferred to Beaumont-Port Arthur, TX, where I spent the remainder of my deployment.
Here is a daily meeting for ARC volunteers at the Beaumont HQ: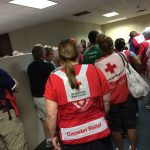 I was assigned a cot at a new location in downtown Beaumont, and there remained for a few days. Like all of Beaumont we had to rely upon bottled water, as tap water was not potable; shower at your own risk.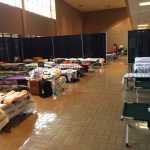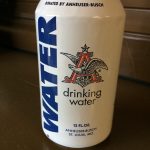 Let me tell you about southeast Texas. The community of Port Arthur is amongst the poorest in Texas, and certainly under-served with regard to receiving enough public support services. I know this from first-hand experience, not through news media or social media sources. This made my role of DSC chaplain stretch from immediate bedside spiritual care, to spiritual care in the form of community advocate as well.
Chaplains do more than provide religious, prayer, grief recovery or comfort services. We are also watchdogs and advocates for our clients. Just as I might have watched the nightly news and felt driven to speak for and advocate for relief and services to the people of Port Arthur, I was grateful to have the opportunity to roll up my sleeves and become an advocate in person.
I was at cot-side all day with individuals, and also made reports to any and all support providers to ramp up their services; both emergency and medical aid, mental health support and interventions, insuring clients were on lists with real appointments for financial, food, and insurance claims.
I also played the role of 'loyal opposition'; working within the care system, while taking risks by speaking up with administrators about shortfalls in services from government agencies, medical services, placement and reunification services, and housing programs.
Although life was harsh in the shelters, with hundreds of citizens lying in close quarters on cots, it reflected what I observed as an acceptance for poor conditions as the norm for Port Arthur denizens. However, I am not able to share any photos online that may show evacuee-guests in them due to confidentiality concerns.
The Port Arthur shelters were created in the gymnasia of a high school. Here is a photo of the theater in the music department; it is indicative of the paucity of funding for core arts programs that might inspire and elevate the aspirations of students in Port Arthur.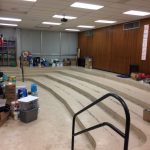 How would you feel if this were the music theater for your child's school?
My role officially was not to change what was before the hurricane. But I can show you and ask: What can you do to correct this disparity in educational facilities and funding?
Everything that creates a community evolves from its educational system, which ultimately contributes to the wellbeing and welfare of our nation.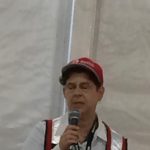 Next, direct spiritual care. Yes, I am Jewish, and no, very few in south Texas who were affected by the hurricane were. I want to commend the local Beaumont Jewish community for reaching out beyond its own membership to the community at large and distributing items it collected to provide for survivors' basic needs and beyond. One member even did my laundry for me!
The Red Cross encouraged faith communities to join them as a partner in disaster. Creating a system of ongoing local community-based aid, such as the Jewish and other groups did, will enable longterm local aid, so vital to self-determination and neighborly outreach.
Now, if you are wondering why this essay title says "First World Problems", here comes the answer: whatever troubles are turning your crank, e.g. disappointment with your Internet provider, or with a recent dining experience, or with bad office politics, perhaps this essay about life in Port Arthur can reset your perspective.
Look at the photos here. They are the real thing; not images from social media or broadcast news: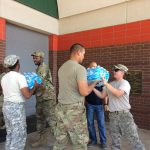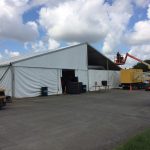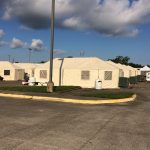 If you are looking for ways to actualize your concerns or find your voice beyond what you can post to FaceBook, then consider signing up to volunteer or work in disaster relief. You will see the difference between what we in our comfortable First World privilege expect, versus what the reality is. And best of all, you can take your awesome advocacy skills and apply them first-hand toward fixing world problems.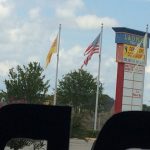 Not all of North America and Europe are living in First World Comfort.
Yes, you can do something. Volunteer, donate, organize, remember, comfort.
Sharing a shelter coffee with a stranger who calls their temporary cot 'home' may just be the best cuppa joe you've ever enjoyed.
May you be inscribed for a good life this coming year…Susan