Take 5 for Cello Music al fresco
It is always a pleasure to take a stroll in Vancouver when we are having weather as lovely as we have this past week has been.
Today I took time out from my task of absorbing and adapting new Balkan and Klezmer tunes on my Oboe and English Horn to get some fresh air.
To my delight, the sidewalks near my home were chalked with happy notes pointing to 'Cello Music', some with whimsical musical notes in pretty colours. I knew right away who it would be at the end of the trail: Clara Shandler, Canada's Sidewalk Cellist!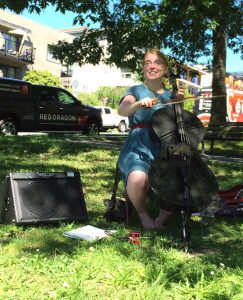 Clara is a treat to watch and listen to with her carbon-fiber cello and fusion of new and classical music.
It is also a treat to perform with her and I have had the pleasure of joining her on Oboe to offer liturgical music, particularly Lewandowski's 'Kol Nidrei', for the opening minutes before the Kol Nidrei service begins on the evening of Yom Kippur. I can attest to the melding of music and sacred time when we have played this piece together, notes intertwining as they ascend up to the heights, transforming players and listeners for the ascent back to earth. A wonderful opening to this Day of At-one-ment.
Today, Clara played solo in the park, a mix of Debussy, Fauré, live Gypsy and heavy metal riffs, with loops assisted by her electronica.
The important thing Clara does is to explain her music: its history, her history, her selection, and how it is blended. And, expect a quiz—listening for themed passages. The audience becomes fully engaged. It was a pleasure to sit on a blanket with adults and children, everyone engaged with the music, some crayoning her fun posters, and allowing the final chords to fade before applause. How refreshing! How al fresco!
The other thing about Clara's music is that she shares it locally and abroad. She teaches music in Asia as well as touring Canada coast to coast.
For me, today's neighbourhood stroll brought an unexpected treat. No one had to dress up or buy an expensive ticket or commute to a theatre. Music as no-big-deal made it a Very Big Deal.
The pleasure today was in the surprise of this found music; under a tree on a blanket; in the neighbourhood, simple and soft, complex and rustic.
That so many were attracted and attentive to this unexpected music-in-the-park reminded me of the Psalms.
You may have noticed a cryptic phrase opening many of these saying, 'to the conductor of instruments'. This is no accident: the psalmist used their knowledge that music bypasses the complex thoughts that confound our lives. We find ourselves unwinding from those entanglements as music engages our non-verbal inner selves.
The Psalms were meant to have a music and rhythm, and for good reason.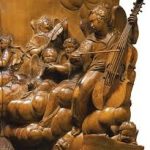 Their words of comfort and healing were meant by the composer to be matched with the non-verbal sounds of sacred music. Need and example? look at the list of instruments in Psalm 150.
Next time you are strolling by a musician, Take 5 and allow the sounds to move your inner thoughts from words to music. And remember how special all of our musicians are at creating that charged elixir, including the Sidewalk Cellist!